Egypt is a country with a rich and vast history, full of archaeological discoveries that have only been uncovered relatively recently. Many historic sites are still yielding important discoveries; what will you find out when you visit?
Today, we're virtually traversing five of Egypt's unmissable experiences. Whether you're a first-time visitor or a seasoned traveller, how many will you tick off your list?
Egypt offers many unique sites outside of the ones we mention here, but we hope our brief delve into the country's hidden gems will inspire you to take a trip! At Literary Tours in Egypt, we specialise in going off the beaten track and showcasing national treasures through a literary lens.
If you're hoping for something a little different this holiday, check out our Personalised Egypt Guided Tours to discover the country your way. From exploring islands in the Nile to walking within the pyramids, Egypt is waiting to be visited! Get in touch to start planning.
So, let's take a look at some of the unmissable unique experiences you could enjoy whilst on your holiday, starting with an archaeological wonder…
1. Discover the Unfinished Obelisk of Aswan, Egypt
Located within the Northern Quarries of Aswan, the Unfinished Obelisk lies horizontally weighing an estimated 1,200 tons. Had it been erected, the obelisk would have stood at 42 metres high, but the visible cracks in the granite prevented its completion.
As the rock has been undisturbed since its carving, the Unfinished Obelisk provides insight into how the ancient Egyptians would have constructed such objects. There are many worker's marks and rock carvings that give us insight into the process.
2. View Queen Hatshepsut's Myrrh Tree in Luxor, Egypt
Amongst the wonders nestled in the Valley of the Kings, one of the lesser-known sites of interest is Queen Hatshepsut's Myrrh Tree. This withered ancient tree stump stands in memory of Pharaoh Hatshepsut, one of the few female leaders of the ancient world.
According to historical stories, the myrrh tree is evidence of the Queen's work to re-establish trade routes into Egypt. On her return voyage, the delegation had 31 live myrrh trees that were part of a project to grow foreign trees on Egyptian soil.
While little is known about these expeditions and their fruits, this myrrh tree is evidence of her political prowess and the longevity of trees. Enjoy the epic Valley of the Kings and this area's rich history on our literary tours exploring Luxor.
3. Visit the Iconic Hanging Church in Cairo, Egypt
One of the most famous churches in Coptic Cairo is the Hanging Church, also known as al-Muʿallaqa. The church is named due to its architectural position. The Hanging Church is situated above the gatehouse of the Babylon Fortress, which was built by the Romans.
The nave is suspended over a passage and the church is accessible by 29 steps leading to the entrance. Inside, viewers can observe the 13 grand pillars that represent Jesus and his 12 apostles.
The church dates back to the third century, whilst its current facade was created in the 19th century. Like many buildings in Egypt, this layered and evolving history reflects the changing political climate and ruling leaders in years gone by.
If you're looking to spend a little more time in the capital on your trip to Egypt, why not peruse our literary tours of Cairo for some destination inspiration?
4. Discover Nabta Playa Stone Circle in Aswan, Egypt
If you're interested in seeing Egypt's answer to Stonehenge, look no further than the Nabta Playa Stone Circle in Aswan! Archaeologists and historians alike consider these rock formations to be the oldest astronomical observatory on earth, used by ancient Egyptians to track the planets.
Located 700 miles south of the Great Pyramid of Giza, these rocks are believed to have been constructed by nomadic people who visited this area over thousands of years. The Nubian Museum in Aswan is the current caretaker of this ancient calendar, meaning you won't have to travel as far as the nomads did to visit it!
Aswan is home to many exciting historic sites for intrepid travellers. So, if you like the sound of this area, view our literary tours of Aswan to discover more exciting potential adventures.
5. Unwind and Write in the Old Cataract Hotel in Aswan, Egypt
If you're looking to relax in style after voyaging through the Nile, our favourite way to unwind is with afternoon tea at the Old Cataract Hotel. Built in 1899 by Thomas Cook, this colonial-era hotel has hosted many famous guests throughout its history, including Winston Churchill, Agatha Christie, and Princess Diana.
For the crime readers amongst you, we offer several Agatha Christie-themed tours of Egypt which, of course, include this spot. Not only did the famous author write in this location, but she set parts of Death on the Nile within its walls! Parts of the 1978 film version were also shot here. You can also still visit the Agatha Christie suite where she wrote the novel including the same desk she used to write.
While a lot has changed since its initial opening, the Old Cataract has retained its distinctive character and a great view of the Nile River. It's a perfect spot to reflect on your journey and plan for the next adventure spot.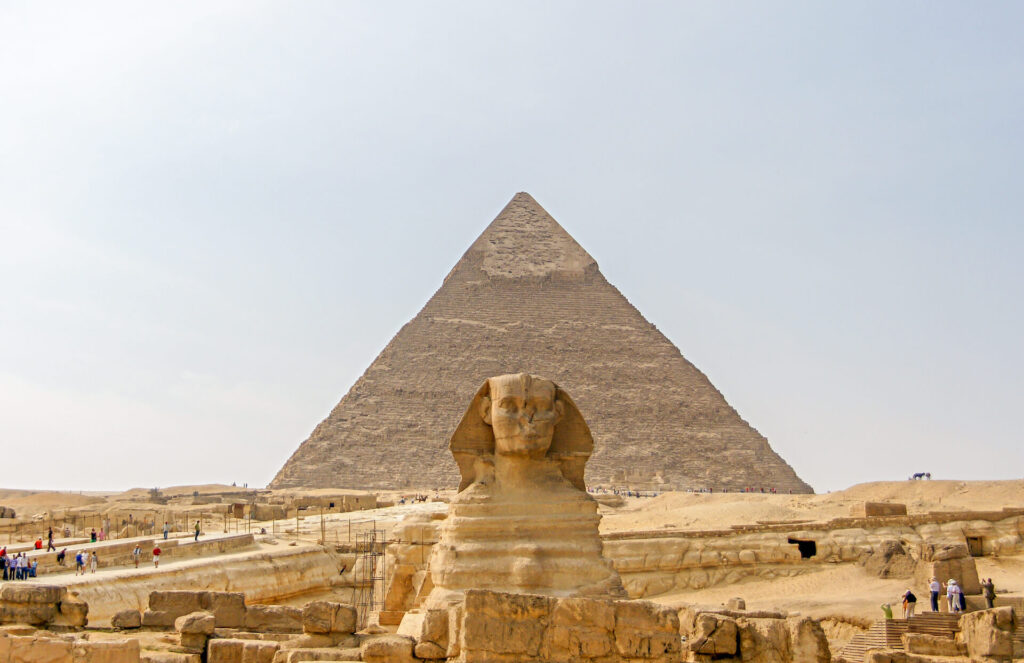 While that brings us to a close of five unmissable experiences in Egypt, there are plenty more waiting to be seen across Luxor, Cairo, and Aswan. Which area will you visit first? If you've spotted somewhere you'd like to visit and want to know more, get in touch.
Literary Tours in Egypt has been providing personalised tours of Egypt for decades. As locals who enjoy sharing the best of our country with a literary twist, we can't wait to show you these unique and unmissable experiences.
If you're ready to start planning your next adventure today, we can help you make magical memories in one of the most fascinating ancient empires in the world.