Cairo is a hub of history and modernity living side by side. The city of Cairo was founded in 969 CE and has continually expanded since then, meaning there are plenty of interesting things waiting to be discovered on your holiday.
While we have previously explored the religious history of the city in our guide to Islamic and Coptic Cairo, this blog gives you a broader view of Cairo's must-see sights, from the Great Pyramids to the Islamic Art Museum. 
At Literary Tours in Egypt, we're passionate about sharing all of Cairo's wonders with visitors and sharing the best spots to visit to learn more about its rich history. Our literary-inspired tours of Cairo bring books to life in this fascinating setting by authors including Agatha Christie and Rosie Thomas.
If you'd like to explore this city through a literary lens, get in touch. Our local team can recommend not only the best books to chart your tour but local spots where so many books staged their dramatic plots.
So, without further ado, let's take a look at some of the most interesting places in Cairo.
1. The Great Pyramids of Giza is an Interesting Historical Wonder
Of course, we have to start with one of the most iconic monuments in world history. The Great Pyramids of Giza are the oldest of the Seven Wonders of the Ancient World, and the only one to remain largely intact. They are located in Giza, part of the Greater Cairo metropolis, on the west bank of the Nile River.
The Great Pyramids of Giza were built as tombs for the Pharaohs Khufu, Khafre, and Menkaure. The complex was built in the early 26th century BC over 27 years and visitors to the 481-foot-tall structures can enjoy the nearby Great Sphinx, too. 
2. Enjoy Interesting Art in the Gayer-Anderson Museum, Cairo
The popular tourist attraction, the Gayer-Anderson Museum (also known as Beit El Kertlia), is located in a beautiful historical house in Cairo. It was built in 1631 by Hagg Mohamed Salem Galmam el- Gazzar and consists of two houses, using the outer wall of the Mosque of Ibn Tulun as support.
In addition to being a beautiful Ottoman building to explore in itself, visitors can explore the museum's collection of pharaonic, Islamic, and Asiatic antiquities. Among its treasures, look out for the Museum Room's magic bowls. It was believed that drinking from them could cure any kind of illness.
3. Visit the Bustling Khan el-Khalili Bazaar, Cairo
A trip to Cairo isn't complete without visiting this ancient bazaar and souq. The Khan el-Khalili Bazaar covers 5,000 square metres and dates back to Islamic Cairo. Here, visitors will see an array of local crafts for sale, as well as many locals chatting over delicious tea.
This is a great place to pick up souvenirs and try your hand at bartering. With more than 3,000 visitors a day, this bustling market is a hub of culture and fragrances. For even more information about this bustling, visit our blog on The Khan El Khalili Bazaar: Egypt's Most Vibrant Market.
4. Visit the Spectacular Islamic Art Museum
The Islamic Art Museum in Cairo is the largest museum in the world dedicated to Islamic art. Initially established in 1888 called the Museum of Arab Art, it moved locations in 1903 to its current spot in the historic Bab al-Khalq district of Cairo. 
Designed by Alfonso Manelesco in a neo-Mamluk style, the museum itself is a work of art. After a name change to the Islamic Art Museum in 1952, the collection continued to build.
It houses over 100,000 pieces of Islamic art, including manuscripts, textiles, ceramics, metalwork, and woodwork. Its collection ranges from the 7th-century Umayyad dynasty to the 19th-century Ottoman Empire and is a treasure trove of important artefacts.
Look out for several rare Qur'ans, a restored Mamluk mosaic fountain, and the oldest Islamic gold dinar (a form of currency) that has ever been found. 
5. Cruise Along the Nile River in Cairo
The Nile River is often referred to as the lifeblood of Egypt. As the longest river in the world, stretching over 4,258 miles, the Nile provides much of the nation's food and crops. It also generates energy and the river's fish are a cornerstone of Egyptians' protein.
As a must-do experience, our Literary Tours of the Nile include riding a small ship cruise called a dahabiya, which takes you down the river to archaeological sites including Aswan and Elephantine Island.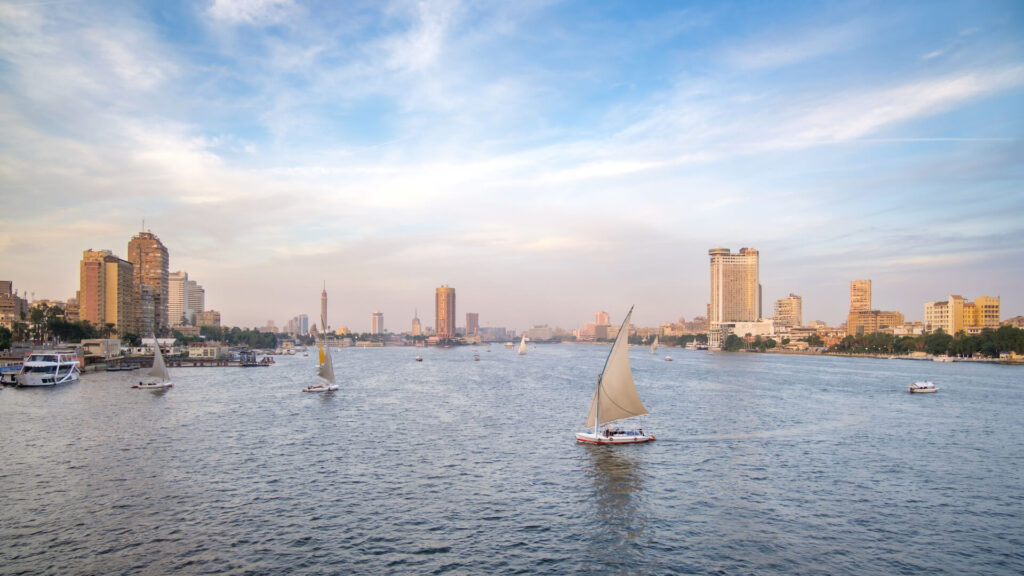 6. Admire the Fascinating Al-Azhar Mosque in Cairo
If you are venturing into Islamic Cairo on the east side of the river Nile, you must see the Al-Azhar Mosque. Founded in 970 AD, it is one of Cairo's earliest religious buildings and was the centre of the former capital Fatimid Caliphate.
The madrassa was built in 988 AD and three minarets were added in the 14th, 15th, and 16th centuries, making it a unique blend of architectural styles.
7. Explore the Necropolis at Saqqara and Dahshur, Cairo
Located in the desert southwest of Cairo, Saqqara is an Egyptian burial ground in Egypt's ancient capital city of Memphis. Founded in 3000 BC by Pharoah Menes, Saqqara is a UNESCO World Heritage site, which boasts 11 major pyramids over six miles.
You can also enjoy seeing the Serapeum, beneath which are imposing 60-tonne granite sarcophagi, each of which has its own chamber.
You can also enjoy nearby Dashur, an ancient Egyptian necropolis that is the site of the Red Pyramid and the Bent Pyramid, two of the oldest surviving pyramids in the world.
Which of Cairo's interesting places will you visit on your holiday? Many of the places we've discussed can be found on our extensive Tours in Cairo Inspired by Literature. But, if you'd like something curated especially, check out our Personalised Egypt Guided Tour Packages.
We hope our brief list has given you a flavour of what to expect when you visit Cairo.
If you're already eyeing your suitcase, get in touch with our local team to start planning your Cairo adventure. Until then, happy travels and happy reading.