Are you visiting Cairo for a standalone trip? Or have you earmarked Egypt's capital as a starting point for a multi-destination tour? Whatever your intentions, Cairo is a bustling city that rewards exploration. And while the pyramids of Giza and world-class museums may take most plaudits, no itinerary is complete without a trip to Khan El Khalili.
This ancient bazaar and souq has iconic status even among Cairo's myriad must-see sites. It sits in the historic centre of the city and draws in huge numbers of locals and tourists alike.
As Egypt's most vibrant market, Khan El Khalili is one of the most popular destinations for those on our custom literary tours in Egypt. Come with us into the maze that is Khan El Khalili and get to know it better.
And if you have any questions about our tour options, please feel free to contact us.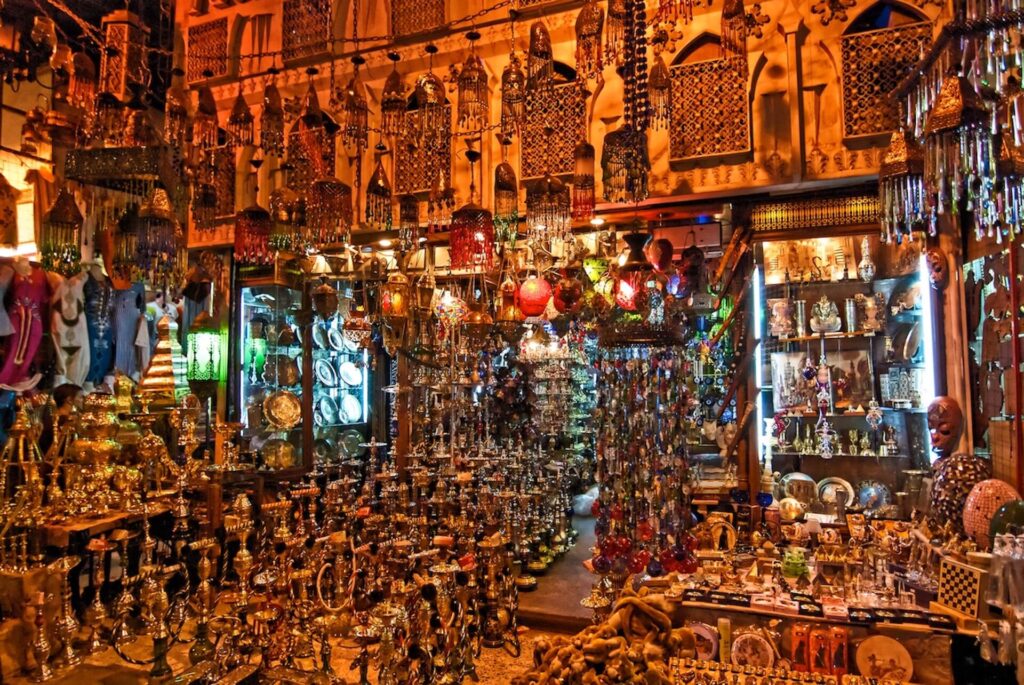 A Brief Introduction to Khan El Khalili's History
In the territory of modern Africa, there is no older or larger bazaar than Khan El Khalili. The current shopping facility exceeds an area of 5,000 square metres!
The bazaar and souq is located in the heart of Islamic Cairo. A history of trading at the site dates as far back as around 1382 to 1389, but the carved, elaborately decorated gates and alleyways came later, in the 16th century.
As the years passed, the more important Khan El Khalili became to Cairenes. It has long been one of Cairo's most visited places. It's where locals come to socialise, shop, and share news, even to this day.
And while the bazaar and souq is still incredibly popular with Cairenes going about their life, plenty of tourists stop by to purchase souvenirs and sample the unique atmosphere.
An estimated 3,000 people pass through Khan El Khalili every day!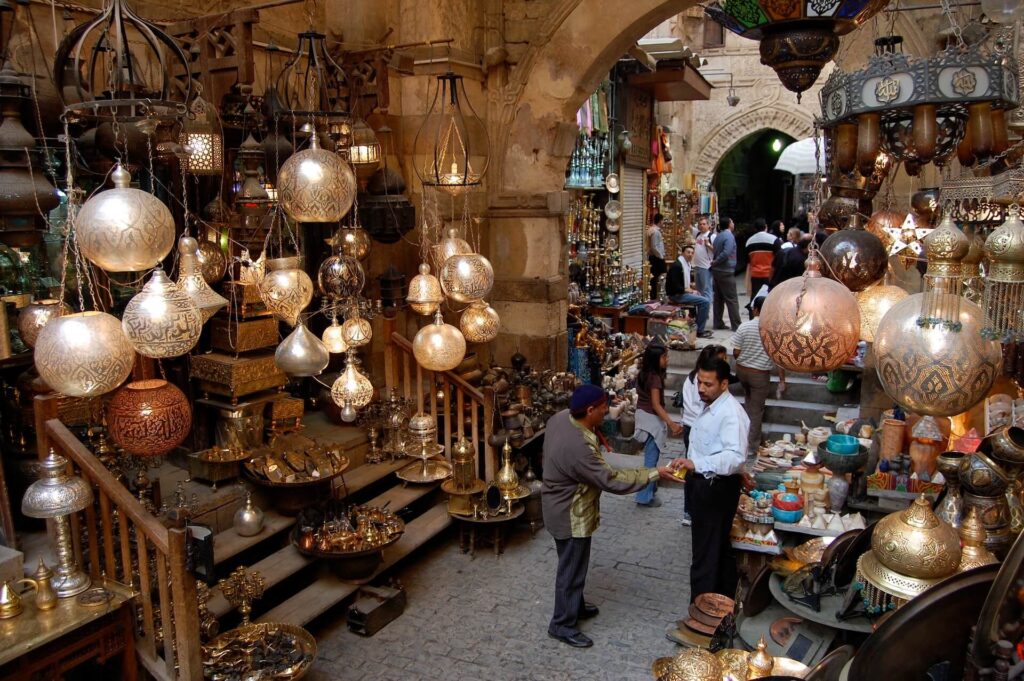 Egypt's Biggest Market Inspired a Nobel Prize-Winning Author!
Given Khan El Khalili's historical and cultural importance, it's no surprise that it has inspired, and directly features in, various films and works of literature.
Among the most famous examples of the latter are the works of Nobel Prize-winning author Naguib Mahfouz, particularly his novels Midaq Alley and Khan Al-Khalili.
You can follow in Mahfouz's footsteps by visiting Cafe El-Fishawy, one of the author's favourite cafes in the area. As an added bonus, it's also one of the oldest in Cairo, dating back to 1797.
Such was Mahfouz's fame, and so regular was his habit of visiting the bazaar district, that a restaurant in the market bears his name: the Khan El Khalili Restaurant & Naguib Mahfouz Café.
The Khan El Khalili also features prominently in Rosie Thomas' romance novel Iris and Ruby. As such, it's the perfect final stop on our own Rosie Thomas Cairo tour packages.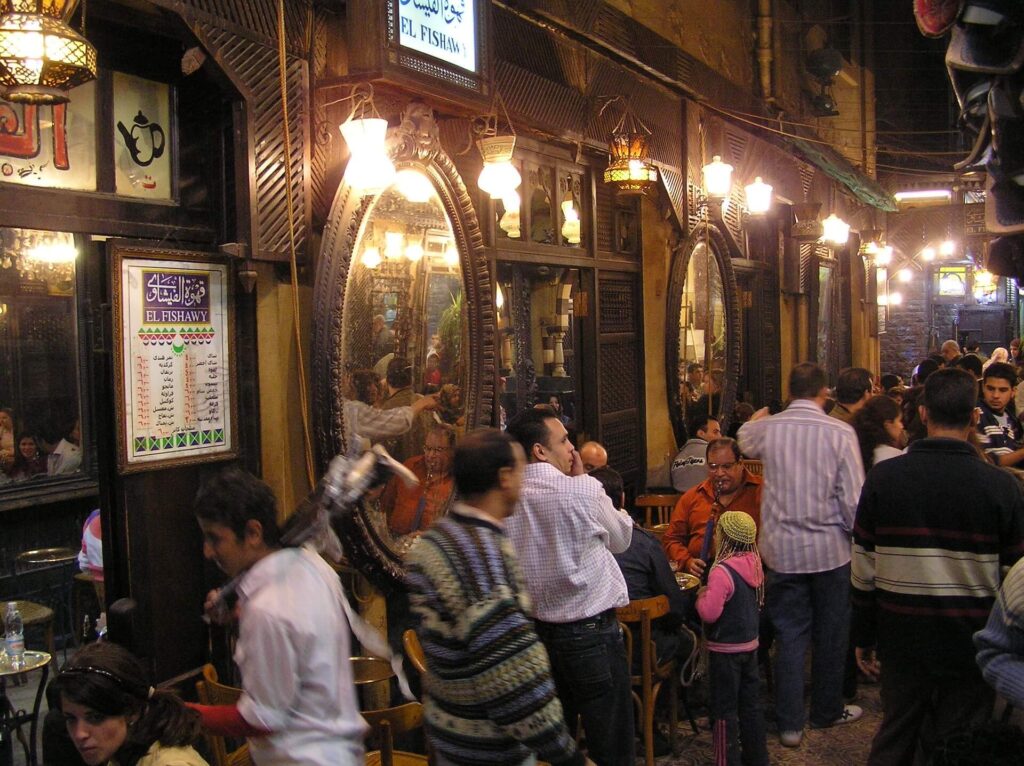 What Can You Find in Khan El Khalili?
Of course, the market has the aforementioned restaurants and cafes. These are ideal for ducking into when you want to give your feet — and wallet or purse — a rest!
The many old cafes are rich in charm and character, and there are endless places to find traditional Egyptian food.
When it comes to the goods for sale, you're spoilt for choice! A cursory look can include:
An array of antiques
Sparkling silverware
Gold artefacts
Stained-glass lamps
Aromatic incense
Handcrafted accessories
Soft, handmade carpets
This list barely scratches the surface. For example, there are dedicated districts solely for gold, copper, and spices.
Our advice: embrace the confusion. Khan El Khalili is a vast maze and a real neighbourhood. You won't be able to know and see everything, and that's fine.
The traders know each other well and are always happy to help. If you can't find what you're looking for, just ask. It's highly likely they know where to find it.
Don't be afraid to get a little lost among the winding streets and colourful stalls, much like Ruby in Rosie Thomas' Iris and Ruby.
Better yet, our Rosie Thomas tours in Cairo are led by experienced experts who can guide you through the bazaar, bringing the story and this incredible setting to life.
Getting to Cairo's Colourful, Energetic Market
Because it sits in the centre of Cairo, Khan El Khalili is easily accessible.
The simplest, fastest, and most convenient way to get there is taking a taxi or Uber from your location directly to the market.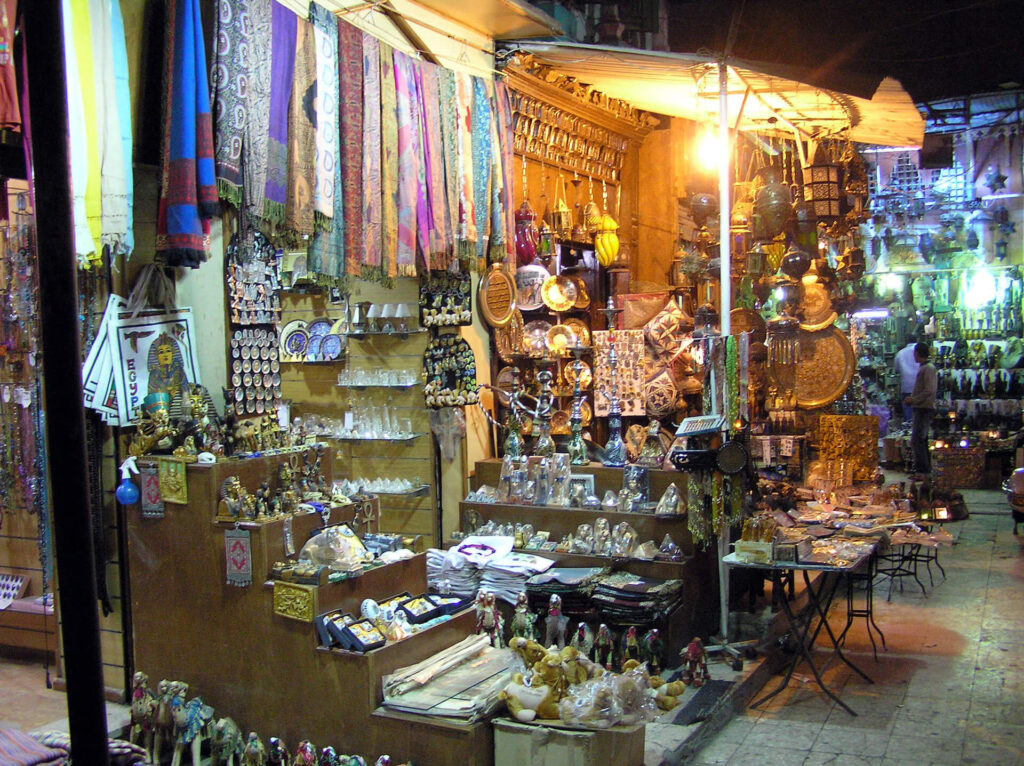 Explore Egypt's Most Vibrant Market and Other Literary Sites with Us
Exploring literary locations in Cairo, on the Nile, and across Egypt is easier than ever with our range of carefully curated tours. In addition to famous sites in our country's capital city, we can show you even more in Luxor, Aswan, and Tell al-Amarna.
If we don't yet have a tour for your favourite book set in our country, we can design a custom literary tour in Egypt just for you!
We love literature and have a genuine passion for Egypt's history and culture. There's nothing we enjoy more than showing book-lovers around sites that bring stories to life before their eyes.
Are you ready to follow in the footsteps of world-renowned authors and the fictional characters they created?
Great! Read our guide on how to plan your literature-inspired trip to Egypt and then contact us with any questions you have about our tours.