In the past, we have written very focused guides to visiting Egypt, such as our blog Touring Egypt's Death on the Nile Film Locations and our First-time Visitor's Guide to Visiting Karnak. With today's guide, we thought we'd zoom out the lens a little, looking at Egypt as a whole.
We know that while many people are fascinated by Egypt, it can be a little overwhelming to look at the entire country — with its wealth of history, culture, and architecture — and then make an easy decision about what you'll see on your big Egypt trip. That's where this guide comes in!
Today, we'd like to offer what we believe to be the top 5 tourist attractions in Egypt. In our view, if anyone wants the best possible experience of Egypt, they have to see everything on this list — even if that means coming back for a second time!
Disclaimer: Everyone's top attractions list might be a little different. This list is uniquely ours. At Literary Tours in Egypt, we have travelled the country many times, experiencing the best Egypt has to offer. Our list may differ from yours, but we hope you will still find our perspective interesting.
1. The Pyramids of Giza
Let's get the biggest one out of the way first. While it's perhaps trendy or enigmatic to decry the biggest or most popular attractions in your country, there's no point in pretending that the Pyramids of Giza aren't incredible. Yes, it's a huge tourist attraction with large crowds of people, but there is good reason for this.
The Pyramids are even bigger and more impressive than many imagine, and no one leaves disappointed. That's often what many guests remark upon when they arrive: this is every bit as impressive as they had always hoped it would be.
Due to the scepticism many modern travellers feel about the big "tourism traps" we decided to write a guide to whether the Pyramids of Giza are worth the trip. Spoiler alert: they absolutely are! Not only are the Pyramids the last surviving wonder of the ancient world, but they are also large enough and impressive enough to drop the jaw of even the most seasoned traveller.
If you'd like to explore the Pyramids of Giza and Cairo with us, following in the footsteps of great literature, take a look at our Noel Barber-inspired Egypt Tours and our Rosie Thomas-inspired tours. If you have a different book that visits the Pyramids and you'd like us to create a bespoke tour just for you, consider our personalised literary Egypt tours — tell us your book and we'll do the rest!
2) The Valley of the Kings
The Valley of the Kings is one of the most important archaeological findings in human history. You'll find this incredible network of tombs on the banks of the Nile, close to Luxor (known as Thebes in ancient times). What's so striking about the Valley of the Kings is its staggering scale. Pharaohs for over 500 years (16th to 11th century BC) built their tombs here. There are 63 known tombs in the valley, but two new tombs were discovered as recently as 2005 and 2008, so there may be more there, waiting to be discovered.
The most famous tomb in the valley is that of Tutankhamun, which was discovered in 1922 by Howard Carter. While the treasures from the tomb are in Egypt's various museums, Tutankhamun's sarcophagus and mummified body remains in his tomb in the Valley of the Kings. This is another utterly unmissable component of any full Egypt holiday.
3) Karnak Temple Complex
Karnak is often a surprise to visitors who perhaps didn't know quite what to expect. While there is a lot of reading material about the Karnak Temple Complex, it doesn't have the same kind of international fame as the Pyramids of Giza or the Valley of the Kings. However, most guests we've shown around Karnak are blown away — and there is often bafflement that more people in the tourism industry aren't singing the praises of this incredible place.
Karnak is much harder to define than the other attractions as it isn't a single, unified thing; instead, Karnak is a complex of temples, obelisks, and other structures, all split into four distinct precincts. Many of the structures here are better preserved than anything else that has survived from Egypt's ancient history.
There is far too much to say about the complex here, so we'd like to recommend our Guide to Karnak Temple.
4) The Temple of Hatshepsut
Just a few kilometres from Karnak, you'll find the sensational Temple of Hatshepsut. This temple is another incredible place that doesn't get anywhere near the attention it deserves from the international tourism community.
For better and for worse, the Pyramids of Giza eclipse everything else. Pharaoh Hatshepsut is interesting in her own right, as she was one of the very few female pharaohs in Ancient Egypt, and there is even some evidence (although it is contested) that she was the first female pharaoh.
In the Eighteenth Dynasty of Egypt, Pharaoh Hatshepsut built this temple to receive the barque of Amun-Re at the climax of the Beautiful Festival of the Valley. While the state of the temple isn't pristine as her nephew who rose to the throne after her destroyed much of it, it is still in remarkable condition.
Often with ancient ruins we have to appreciate what remains and imagine how impressive the structure must have looked in ancient times, but the main structures of this temple are still intact and it gives visitors a great idea of the original structure.
There is a lot more to say about this remarkable structure; perhaps we can come back with a more detailed guide in the near future.
5) Abu Simbel Temple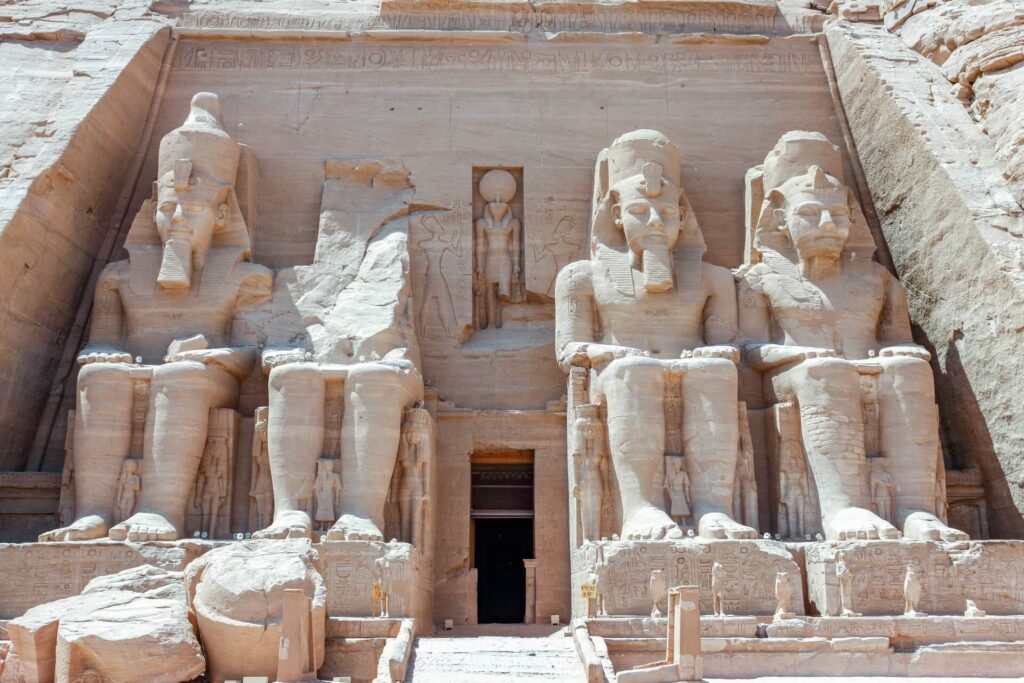 Abu Simbel Temple is often visited from Aswan as it's the nearest Egyptian city, but it is roughly 280km away. Aswan was a large focus in Agatha Christie's book Death on the Nile, which is why it features on many of our Agatha Christie Tours in Egypt.
The second you look out at these two impressive temples cut into the rock, you'll understand exactly why the legendary author had to include Abu Simbel in her book.
What's interesting is that we can't quite see Abu Simbel as Christie will have seen it. The entire structure was relocated in 1968 due to the construction of the Aswan Dam causing water levels to rise. To the Egyptian government's credit, they recognised the incalculable cultural and historical value of Abu Simbel and carried out a many-years-long project to relocate Abu Simbel to a safe location. The project was a success and we have an intact temple to appreciate — albeit in a slightly different location.
That's it. That's our list of the top 5 tourist attractions in Egypt. We adore everything on this list here at Literary Tours in Egypt and we hope we've conveyed at least a small portion of our passion. If you'd like to ask us some questions about our Egypt tours inspired by literature, please feel free to get in touch whenever you like. And if you'd like a completely bespoke experience, take a look at our Tailor-made Literary Egypt Vacations.