What's on your list of must-see sites in Egypt? We feel safe assuming the Pyramids of Giza and the Sphinx. Islamic Cairo is hugely popular too. Nile cruises show you a scroll of scenery and the Valley of the Kings is truly iconic.
However, for many visitors, it's Ancient Egypt's temples that take the limelight. But where to even begin exploring them?
The earliest recorded Egyptian temples date back to the middle of the fourth millennium BC. The last temple construction was at Philae, which the Egyptians stopped using in the sixth century AD.
With such a huge period between these two eras, it's hardly surprising that Egypt has the world's finest collection of ancient temples.
To help make your decision-making process easier, we have provided our recommendations for the must-see temples in Egypt. You can include any of these in your own custom guided literary tour in Egypt.
For more information about our literary tour options, please feel free to get in touch.
But for now, let's take a trip around some of Egypt's best temples.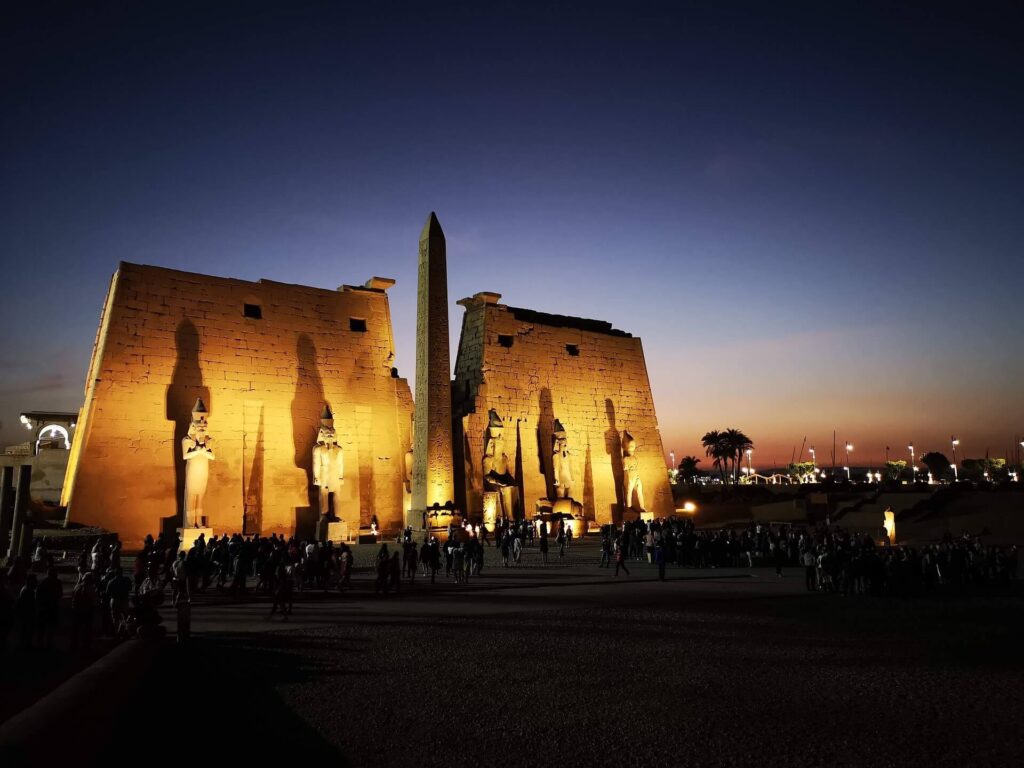 Luxor Temple — One of the World's Oldest Continuously Used Buildings
Located on the east bank of the Nile, modern Luxor incorporates the site of the ancient city of Thebes. As such, it's known as "the world's largest open-air museum".
And Luxor Temple helps to justify this lofty label.
Most of the construction occurred under the rule of Amenhotep III, but was finished by Tutankhamun and Horemheb. Ramses II made later additions.
This means that the well-preserved, awe-inspiring ruins standing today make up one of Egypt's oldest temples.
In fact, part of Luxor Temple has been a place of continuous religious worship for 3,400 years. The Romans converted it into a church in 395 AD before it became a mosque in 640 AD.
The Abu Haggag Mosque is still active today, and the entire Luxor Temple complex is a UNESCO World Heritage Site.
We advise visiting in the early morning or evening when the softening sun lends everything a glorious golden glow.
Karnak Temple — Ancient Egypt's Largest Temple Complex
Staying in Luxor, another of the city's major ancient attractions is Karnak Temple. When it comes to the biggest religious complexes in the world, only Angkor Wat in Cambodia is larger.
The Karnak Temple site covers over two square kilometres and is home to kiosks, pylons, and obelisks dedicated to Egypt's pharaohs.
And what's more, the Karnak and Luxor temples are linked by an incredible 2.7-km avenue lined with sphinxes on both sides.
This grandiose passage is a fitting connection between two of Ancient Egypt's most important places of worship.
For fans of Death on the Nile, Karnak Temple features in Peter Ustinov's 1978 adaptation.
It was here that a falling rock almost killed Linnet. However, in the book, this scene takes place at Abu Simbel.
Both Luxor and Abu Simbel are destinations in our Agatha Christie's Death on the Nile Luxury 12-day Tour.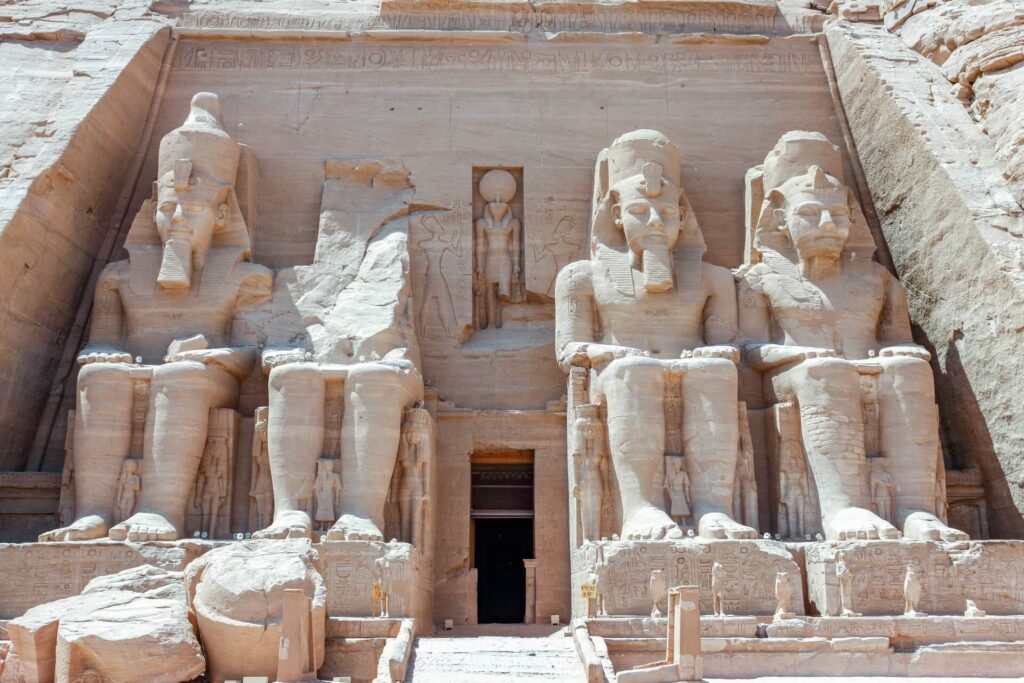 Abu Simbel — Two Temples Cut into a Rock Face
At Abu Simbel, you can marvel at the unforgettable sight of two huge monuments carved out of a sandstone cliff in the 13th Century BCE.
The main attraction here is the row of four huge statues of Ramses II dominating the facade of the main temple.
Interestingly, the main temple was actually built to honour the sun gods Amon-Re, Re-Horakhte, and Ptah, not Ramses.
The smaller temple to the north was dedicated to Nefertari, Ramses' queen. and the goddess Hathor.
Both temples now stand overlooking Lake Nasser thanks to an engineering feat that saved them from being submerged by the rising waters behind the Aswan High Dam.
Abu Simbel was also a filming location for the James Bond classic The Spy Who Loved Me. Read our list of five great films set in Egypt to inspire your holiday to learn more.
Temple of Edfu — The Most Completely Preserved Temple of All
The Temple of Edfu is dedicated to Horus, the falcon god. Not only is it the second-largest Egyptian temple (behind Karnak), but it's also the most well-preserved.
One of the key factors for its outstanding condition is its location on high ground above the Nile's west bank. As such, it has escaped the destruction associated with the river's flooding.
The construction of the Edfu Temple lasted for almost two centuries, starting under the reign of Ptolemy III and finishing with Ptolemy XII.
The temple itself has traditional New Kingdom elements along with touches of Greek influence.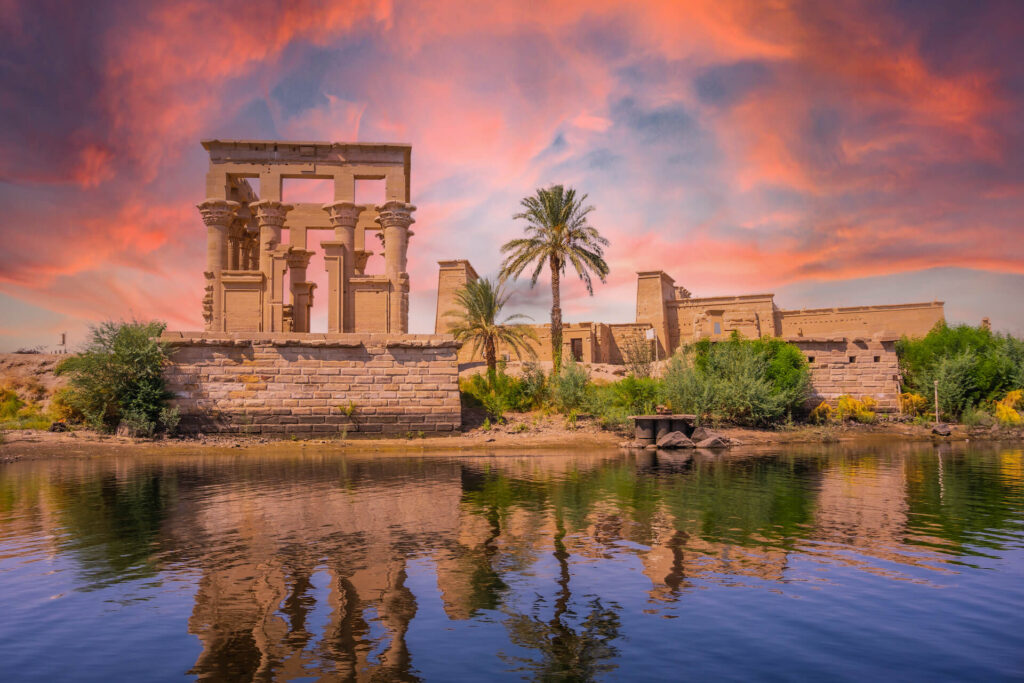 And Many More Amazing Temples…
Of course, we can't cover all the temples we love in detail. But it's important to recognise that this list is far from exhaustive.
Some other honourable mentions of must-see temples in Egypt include:
Temple of Kom Ombo
Temple of Hatshepsut
Temple of Philae
Temple of Seti I
Medinet Habu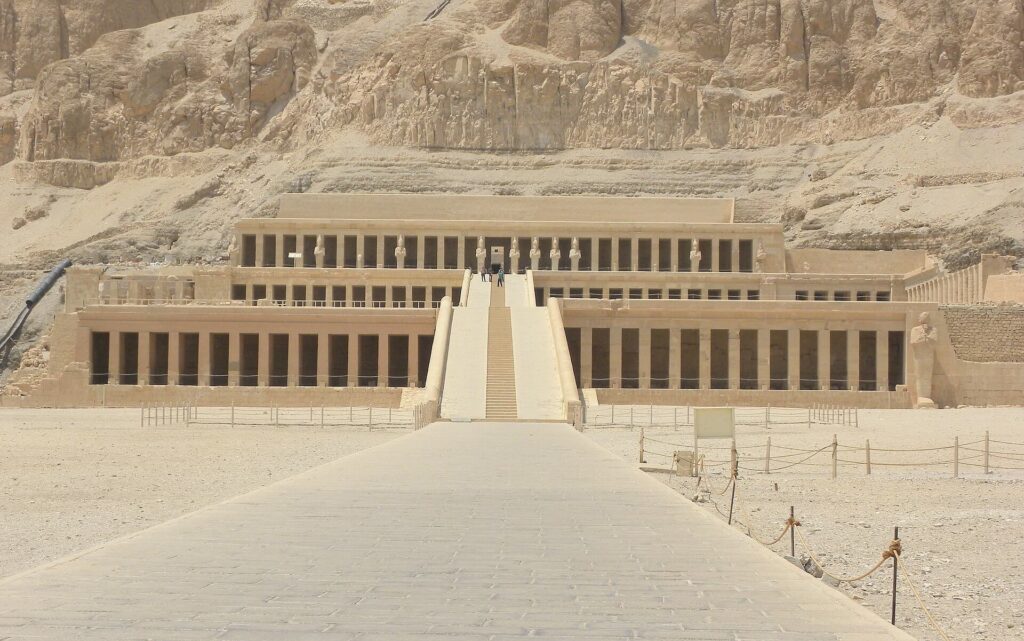 Visit Locations in Your Favourite Egypt-Based Books on Our Tours
We hope this list of Egypt's best temples has inspired you to start planning your own trip to our incredible country.
With Literary Tours in Egypt, you can explore our most renowned sites through the lens of some of the most famous books set here.
If you're a fan of supreme murder mysteries, our Agatha Christie Tours in Egypt are the perfect fit.
Is Iris & Ruby one of your favourite books? We have fun and fascinating Rosie Thomas Cairo Tour Packages too.
Our A Woman in Cairo City Tour is another hit with fans of the Noel Barber classic.
If you have any questions about our tours, or you want to create a custom literary tour in Egypt, please don't hesitate to contact us.