Yes, the Great Pyramid is worth the trip. That's the end of the article…
We're just kidding. You've no doubt clicked through to this blog because you're considering visiting Egypt and the Pyramids of Giza are probably close to the top of your list. Given how large Egypt is, it's unlikely that you'll see all the best sights in one trip — or even two trips. So it's useful to make a small bucket list of places — especially since most people only intend to visit Egypt once.
For many, it's worth coming to the Great Pyramid of Giza just to say you've been here, but we live and breathe all-things-Egypt here at Literary Tours Egypt, so we thought we'd help you plan your trip and put your mind to rest by confirming why the Pyramids of Giza are very much worth the trip.
If we inspire you to book with us, you may like to consider our custom Egypt tours inspired by literature — make your Egypt tour even more special by allowing us to create a custom Egypt holiday, drawing inspiration from a great work of literature of your choosing.
The Last Surviving Wonder of the Ancient World
Most people have heard of the Seven Wonders of the Ancient World. It would be the most wonderful (excuse the pun) thing ever to see them all but, sadly, they are all gone — fallen victim to the weather, time, and man's destruction. All are gone save one: the Great Pyramid of Giza (also known as the Pyramid of Khufu).
There are older structures in Egypt (and the world) than the Great Pyramid of Giza, but there is no structure as old, large, and still in excellent condition. It's that final aspect that is most impressive: despite the Great Pyramid of Giza being close to 4,500 years old, it is in almost immaculate condition — this is a testament to the building expertise of Hemiunu, the incredible structure's architect.
The Great Pyramid is as Big and Impressive as you Imagine
So much of travel begins in our imagination, and the reality doesn't always live up to our lively imaginings. It's also perhaps impossible for even the best photography and videography to fully convey how it feels to stand in the Giza Pyramid Complex, so much is still left to our inherently wonky imaginations…
While personal expectations are obviously very subjective, one thing we've noticed again and again working in the Egypt tourism industry is that visitors are always blown away by the imposing scale of the Great Pyramid of Giza. While some landmarks and sights can disappoint tourists when they finally see them in person, the overwhelming consensus is that the Great Pyramid is not overrated at all.
Conversely, we've noticed that many people are just as impressed by the Karnak Temple Complex, which they discover is, in fact, far better than they had been led to believe. While people are happy to discover the Pyramids of Giza are every bit as impressive as they'd imagined they'd be, they're even more surprised that they hadn't heard more about Karnak. This vast complex of temples is found near Luxor and the Valley of the Kings. If you'd like to know more about it, read our first-time visitor's guide to Karnak.
Is it Worth Going Inside the Great Pyramid?
This is where the topic gets much more subjective, as some people will probably love nothing more than to stumble through the passageway leading to the tomb inside. However, many find this part of the experience more than a little underwhelming.
While the interior may have been more impressive when it was decked from floor to ceiling with gold and riches, none of the original treasures remain. There are incredible historical treasures, however, with hieroglyphic wall markings, but many find the inside of the Great Pyramid to be a stiflingly warm walk in the dark, and they're simply glad to get outside again.
Other visitors are overjoyed at the sheer novelty of stepping into the most famous ancient monument in the world, and no amount of claustrophobia can take that away from them. It's not our job to tell you what you should enjoy; we simply want to ensure you are adequately informed so that you know when to be excited about your trip to Egypt and when you ought to temper your expectations.
How Busy are the Pyramids of Giza?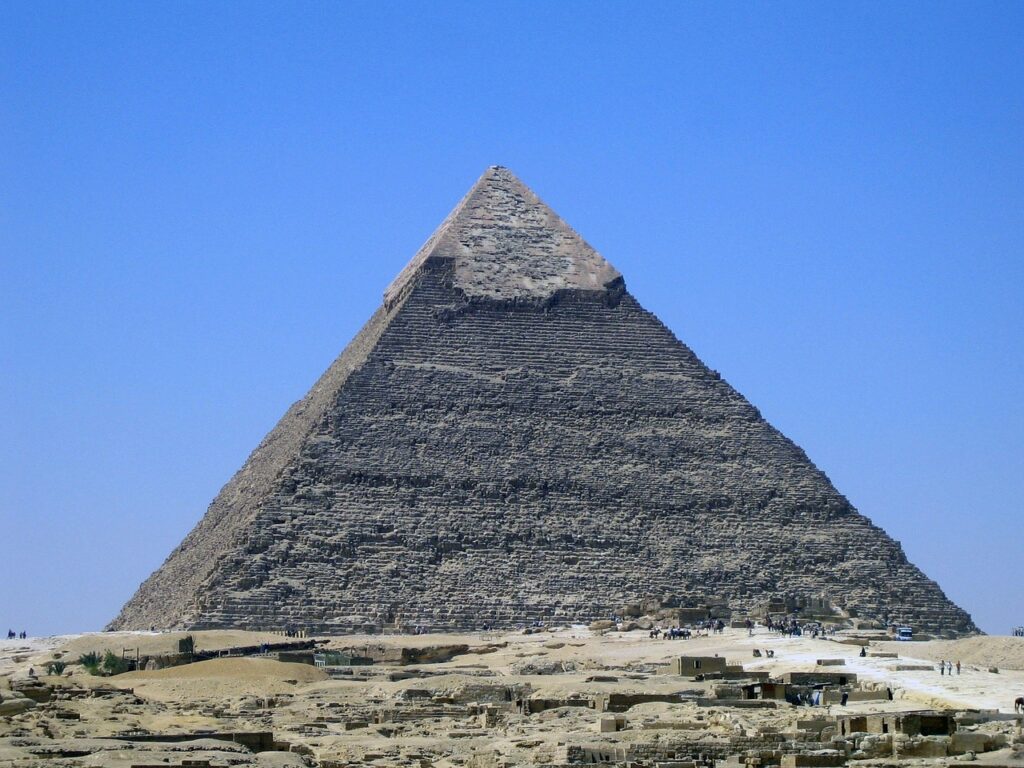 The last topic to discuss here is the level of tourism the Pyramids of Giza receive, as the busy crowds may put some people off visiting. It's no secret that the Pyramids of Giza are popular; as we've discussed above, they more than earn their reputation and will not disappoint. However, with this popularity comes vast numbers of tourists each year — and because Egypt is a great destination to visit all year round, it's hard to find a true low season you can choose if you absolutely want to avoid the crowds.
However, if you really want to visit the Pyramids of Giza but the thought of huge crowds is putting you off too much, then you should aim to get there early. In the winter (October-March), the whole Giza Pyramid Complex opens from 8am, and in summer (April to September) it opens from 7am. The majority of the tour buses arrive at 10am each day, which means you have plenty of time to explore the entire complex before everyone else arrives. It's also worth noting that it's much cooler earlier in the morning, making the whole experience more pleasant for people visiting from cooler countries who aren't used to the Egyptian sun.
There's so much to say about the Great Pyramid of Giza and the entire Pyramid Complex, but we set ourselves a more modest task: the answer whether it was worth the trip.
We hope this guide has helped you answer this question. Coming from a boutique tour operator that has seen the Great Pyramid of Giza countless times, we can say with confidence that it is incredible and that it's more than worth the trip. We hope we've reassured some readers who already wanted to visit and that we've perhaps convinced one or two readers who had previously been on the fence.
If you'd like to enquire about one of our tours, or you have any questions for us, please feel free to contact us. Egypt is an incredible country with vast historical and cultural riches — the Great Pyramid of Giza is only one of its countless treasures.
---
This article was originally published in April 2021 and most recently updated in March 2022.